Rose St. Gardens
18 Rose St Goodwill
Tel: +1767 3166000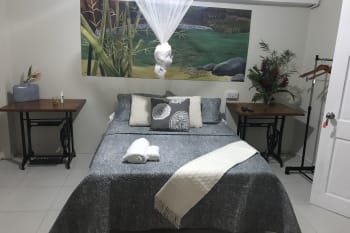 All our rooms are equipped with a smart tv, a mini fridge, a hot water kettle and a coffee maker for your convenience. Complimentary water, teas, coffee, crackers, cheese, milk, cereal and other basic essentials are also provided for your comfort. Should you need to use the kitchen, we don't mind. Please feel free to relax on our terrace and enjoy the early morning sunrise, or listen to the river in the evening, as it flows towards the sea. Our home is ideally located. It's a few minutes away from the capital city, Roseau. You can find a local supermarket just minutes walking distance. If you need, we can drive you there. Liz Laundry is just down the road... Lindo Park Service Station is seconds away if your car requires refuelling. The Princess Margaret Hospital is close by. We are trying to be environmental friendly so only put dirty towels outside your door; a laundry bag is provided. If your stay is for more than one week, we will provide clean linen. Smoking is not allowed inside the building.
Availability
There are no rooms available at Rose St. Gardens
for these dates.
Please try other dates or select a
different property
.
rooms
Facilities
Disabled Access
Disabled Parking
Early Breakfast By Arrangement
Evening Meal By Arrangement
Internet Access
Lounge
Luggage Storage
Shuttle to Airport
Shuttle to City Centre
Policies
Check In: Between 14:00 and 22:00
Check Out: Between 11:00 and 13:00
Wi-fi: Wireless internet is available and is free of charge.
Smoking: There is no smoking permitted anywhere within the property.
Parking: Limited parking is available on site and is free of charge. On street parking is available and is free of charge. Parking is available nearby and is free of charge.


Children: Children of all ages are welcome.
Pets: Pets are not allowed.
Groups: All groups are accepted.
Average
5.0
out of 5
25 reviews
100% recommend
Reviews
10th January 2022:

Très gentille est à l'écoute, prêt à servir
Would Recommend: Yes
27th December 2021:

Our stay was excellent - Jennifer is a kind and attentive hostess. The room was comfortable and amenities excellent. I would recommend this guest house to everyone who wishes to visit Dominica.
Would Recommend: Yes
14th December 2021:

Mrs. Fadelle excellent service, understanding and quite empathetic to my needs and special circumstances .
Tips:
Symes Catering excellent food service. Quick delivery
Would Recommend: Yes
24th August 2021:

Getting to the facility, and meeting with ms jenifer was warming. We spoke over the phone prior but getting there I felt like I knew her. Having spent 6 days there, now I can safely say that she and her team are darlings. They offer to assist in any way, the provision of necessities is very sweet and the fact that they are approachable and responsive if you lack anything is the most amazing part. My 1yr + daughter had enough room to explore rather than locked away in a room. We felt like we were at home but away from home. Whilst we were there, the country was locked down for the weekend and she told me, I left mac and cheese there for you to prepare for your daughter, there is pizza dough etc and that made me see that heyyy...this lady cares and loves what she does.thumbs up to you All in all we had a splendid stay there. All thanks to miss Jennifer and team.
Tips:
Whilst there, you are able to prepare your meals or order your meals. I chose pearls cuisine to order my meal when I felt for something different. I also placed my order for groceries at lindo mart supermarket in goodwill( which is not too far away) so I sent my list to them and they could have delivered but I got someone to pick up and drop to me. Most of my meals were prepared from home and delivered at the facility for which I was really grateful.
Would Recommend: Yes
17th August 2021:

Lovely view and very cozy rooms
Tips:
Make sure to bring adapters for your devices and remember that the voltage is 220.
Would Recommend: Yes
23rd July 2021:

Would Recommend: Yes
16th July 2021:

Would Recommend: Yes
12th July 2021:

Would Recommend: Yes
3rd July 2021:

had a wonderful time . service was very good beyond my expectation. Manager , very nice and friendly and would go further to make sure your stay was good overall my wife and myself offer kudos to the manager Mrs Jennifer Fadelle. Thank you for making us feel at home . I will come again, and without hesitation I would recommend your establishment for the wonderful view and close proximity to the city. Thank you again Ransome & Alice Peters
Would Recommend: Yes
30th June 2021:

Lovely little place,the owner is very helpful and caring. It's like being at home.
Tips:
As it is a bed and breakfast, you need to speak to the owner on how to get lunch/dinner.
Would Recommend: Yes
25th June 2021:

Excellent service.Host goes above and beyond to make stay comfortable and experience pleasant.There is that homely touch which was greatly appreciated.
Would Recommend: Yes
24th June 2021:

Can't say enough about the host and the facilities.
Would Recommend: Yes
21st June 2021:

Tips:
Thanks again for having us ,the service was great, not to consider, the staff excellent,it was very accomodating, the traquility and the quiteness i enjoyed. Thanks again for making my stay an excillent stay. Yours truly Sharon
Would Recommend: Yes
9th June 2021:

Jennifer is an excellent hostess committed to exceptional customer service. We stayed in the 'Studio' which is tastefully decorated and equipped with a kitchenette and fridge that is fully stocked with essentials and other thoughtful items. We enjoyed relaxing on the covered patio surrounded by many beautiful plants. Our stay was very comfortable and we would definitely stay there again.
Would Recommend: Yes
7th June 2021:

Jennifer's Rose Garden is exceptional, this Guesthouse is a perfect spot for quarantine as well visiting. I booked this location for three days and extended my stay due to the comfort. Jennifer made everyday relaxing, you'll not regret your time spent at the Rose Garden, My home away from, with a complete kitchen stoke with many options. This has been my best quarantine experience ever.
Tips:
Churches within walking distance, banks and business places are all available within few minutes walk, tours to the waterfall are all accessible to you. It a must, book two days before the weekend, If vaccinated for COVID,
Would Recommend: Yes
3rd June 2021:

Staff-owner EXTREMELY accommodating. They arranged taxi pick-up at the airport for me. They WILL not hesitate to run out to get you something to eat. And Jennifer will not only recommend somewhere, but she will HAPPILY take you to the place that you choose. She's also very efficient at booking taxi trips for guests to get to and from COVID-19 tests at the Roseau Health Centre. It's also plain that she doesn't want guests to remain in quarantine one day longer than required, and she does not hesitate to issue FULL refunds if quarantine ends early.
Tips:
There are many things to see and do. But obviously, guests MUST adhere to government-required quarantine measures that are beyond the control of the staff. Where COVID-19 is no longer such a public health threat, Rose Street Gardens will still be a GREAT choice for those who need accommodations. It is quiet, with an above-ground pool, TV and Internet, really GREAT views all the way down to the tranquil Caribbean Sea, and clean.
Would Recommend: Yes
26th May 2021:

Would recommed 18 Rose Street Gardens HIGHLY. All our needs were met above and beyond!!! Very confortable and convienent place. Extremely clean and highly organised for guests comfort.
Would Recommend: Yes
23rd April 2021:

Service was exceptional. Staff very friendly and went over and beyond to make our stay comfortable. Outside garden was beautiful and serene. Beautiful views of the town and the sea.
Would Recommend: Yes
23rd March 2021:

Would Recommend: Yes
15th March 2021:

Ideal location with a view of Roseau. Wonderful modern homely accommodation with all amenities.Super clean. Most attentive hostess. Could not ask for more. Thank you!
Would Recommend: Yes
21st February 2021:

Rose St Garden is a very lovely place. The owner is very hospitable and very thorough. She does everything in her power to make you comfortable. My stay was very peaceful and enjoyable. I would recommend this location to any one looking for a place to quarantine
Tips:
Try Guiyave and Pearls Cuisine. Great cuisine. Emerald pool, trafalgar falls and up the Indian River are some things to do
Would Recommend: Yes
19th February 2021:

This place is a home away from home. Jennifer's customer service is excellent. The view and patio is off the chain.. I enjoyed every day every night every hour every minute ...
Tips:
Relax and enjoy the patio . Jennifer is amazing ..
Would Recommend: Yes
10th February 2021:

Location is great- close to the city. The host is very pleasant and hospitable, and made the stay very comfortable. I intend to use this location in the future.
Would Recommend: Yes
24th January 2021:

Stay was very accommodating enjoyed it to the max.The abundance of local plants and tropical Flowers lends to an environment that has a true nature island feel to it
Would Recommend: Yes
11th January 2021:

Rose garden made my quarantine a breeze. Very cozy rooms. Very nice surroundings with a view. Would definitely recommend rose garden. Near to town and most but least they are very knowledgeable of protocols on island
Would Recommend: Yes
.